Objectives
The new Julia's House Children's hospice in Poole, Dorset was completed in 2005.  The grounds though needed £750,000 work as they were full of rubble and a mud bath.  The hospice worked closely with Briconomics to create a fantastic campaign generating over £100,000 and receiving high publicity with well-known personalities and national TV.
To raise as much as possible £ to complete the hospice grounds
To build an enhanced donor data base
The Products
Single Brick 210mm x 105mm £50
Double Brick 210mm x 210mm £100
Marketing
PR big push in local press with celebrities
Direct mail shots to warm and cold lists
Events and social fundraising
Lions club, Roundtable and Freemason lodges all helped contribute
Large commercial institutions – particularly financial were approach and responded well.
Results
£100,000 raised.
A beautiful feature Walkway
Enhanced donor database
Key Success Factors
Very good planning and campaign structure
High profile personalities
Excellent direct marketing
Highly active team of fundraisers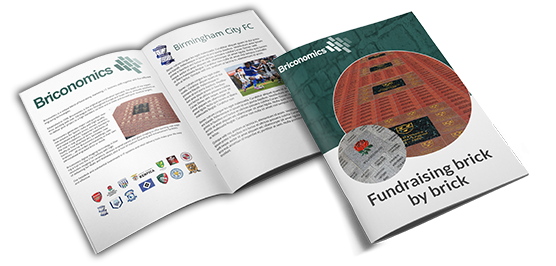 Download our FREE brochure